The Law of Nature: Cruelty Produces Hatred

Revulsion is a strong human emotion deeply wired in our sense of justice. We develop feelings of revulsion against individuals, groups, even nations that perpetrate gross injustice and cruelty. In an increasingly integrated world, the information travels with the speed of light in all corners of the planet, often in real time. The peoples of the world develop instant feelings of aversion against entities that commit crimes against humanity, erase homes and villages, and kill powerless men, women, and children with rockets and missiles. A well-resourced entity may win a battle or a war, and yet may sow disgust in the hearts of the peoples of the world. Cruelty may go unpunished in the national and international legal systems but it cannot escape the realm of human awareness.
For surely, we know, cruelty breeds odium - a permanent decree of nature. The decree cannot be annulled with any teachings of law or morality. Nor can the decree be circumvented through false propaganda, news distortions, or legalistic arguments touting self-defense or national security in the commission of brutality. There is no defense for cruelty. Nor is there any exception that allows cruelty. "Love your enemies and pray for those who persecute you" is a noble command. In the imperfect world, however, "cruelty breeds odium" is a more readily observable phenomenon.
Acts of Cruelty
Unfortunately, current national and global affairs are replete with acts of cruelty. Individual acts of cruelty disturb us profoundly, all of us, even when we do not know the victims or the wrongdoers. The peoples of the world, no matter where they live, are revolted when they hear a man raping an eight year old girl, breaking her bones and smashing her face with a hammer, a mother shooting her four children eighteen times at close range, or a young man massacring twenty children in an elementary school. For many, even acts of cruelty against animals are reprehensible. We may recognize that some individual acts of cruelty stem from mental illness or psychotic disorder. Yet, we do not love cruel persons.
Acts of cruelty associated with groups and nations produce even more intense revulsion. The peoples of the world rightfully presume that groups and nations act deliberately in committing torture and cruelty. Waterboarding an enemy does not occur accidentally, though bombing a wedding party might be a targeting mistake. Ethnic cleansing is a deliberate act of cruelty, as is genocide and forcible removal of an indigenous population. Recurrent bombing of hospitals, places of worship, shops, emergency vehicles, and similar targets, even when arguably excusable under the law of war, produce odium and feelings of revulsion. Such is the law of nature that the peoples of the world hate all forms of cruelty. No excuse or justification mitigates the feelings of revulsion against cruelty.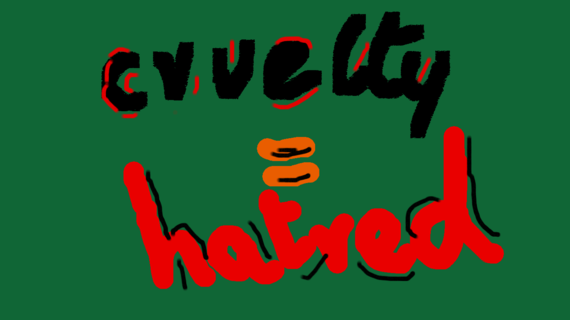 Expressions of Hatred
The peoples of the world express odium against cruelty in many different ways. The direct victims of cruelty, though weak and powerless, may resort to violence and sabotage, at times inviting more cruelty. They may supplicate deities for heavenly retribution. When cruelty subsides, the victims may build memorials and write stories and poems to express their disgust.
The feelings of odium are most intense when cruelty is committed in the context of alien domination, occupation, and apartheid. When the peoples of the world see or learn about cruelty, they, though not directly affected by it, may protest loudly and quietly. The peoples of the world may burn effigies of the leaders of cruelty. They may boycott products and urge for broader divestment in companies doing business with unkind entities.
The perpetrators of cruelty jeopardize their own safety. As reaction to cruelty, the revulsion is sometimes so fervent and widespread that it reaches even the blameless members of the entity. Collective punishment solicits collective revulsion. Just as cruelty sees no distinction among its victims, likewise the reactive odium turns blind. This is the most unfortunate logic of cruelty.
Frequently, memories of cruelty are intergenerational, as stories of cruelty travel in time and space. Such is the law of nature that the battles won with cruelty are eventually written off. History is revised. And the posterity is ashamed of their cruel forefathers. Self-loathing is the ultimate prize of cruelty.